Arizona's Desert Swarm Defense
Dick Tomey built a giant killer with unique formations and a dominant run defense.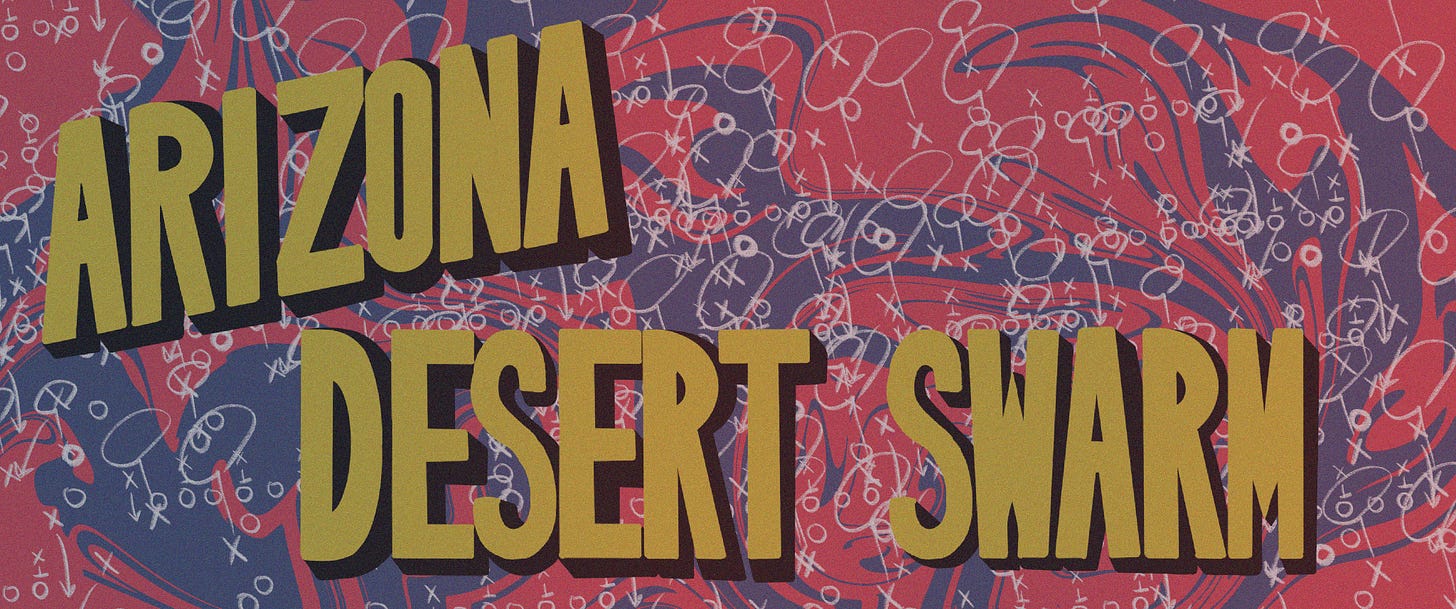 Welcome to the first dispatch of The Outside Zone Newsletter, a thrice-weekly college football film-study. This is a free piece, as all Wednesday stories will be, but if you want to read about Houston's veer option, Oklahoma's wishbone and more in the coming days and weeks, sign up for the $5 a month option!
Dick Tomey didn't come up with the Desert Swarm nickname for his defense. The credit for the Gulf War-inspired nickname goes instead to a journalist, and while Tomey originally didn't much care for it, his players did, and it became an identity.
"I think it was a media person who coined the name," Tomey said in 1994. "The last thing you need is a nickname because you become very average quickly, but the guys embraced it and I think they still do and it stuck. It's something that people look to today and talk about fondly. The thing that's lost in that a little bit is that in the '93 Fiesta Bowl, we shut out Miami 29-0, but we had to play great offensively. We moved the heck out of the ball on them."
The name stuck likely because of just how well it fit the system that Tomey was running. When utilizing the Desert Swarm defense at its peak from 1992-1994, Arizona fielded some of the best college football defenses of the last 30 years, including a 1992 unit that allowed just 9.8 points per game.
While Tomey couldn't take credit for the name, he was still a history buff in his own right, as essentially every innovative coach is. When he needed a scheme that would better fit the young talented he had accumulated at Arizona in the early 90s, he turned to history, and to legendary Canadian Football League coach Don Matthews.
"The defense was originally the brain child of a man named Don Matthews who was a coach in the Canadian Football League," Tomey said. "He started the original concept, and our staff ran with it. It was frighteningly simple. We almost never blitzed. We looked the same every time we lined up, which was a great disguise. And we played with the same personnel on the field almost all the time. Formation changes didn't matter. We just had terrific players that fit the system."
Matthews is essentially the godfather of what can be referred to as the "double eagle flex" defense, though it isn't so much a full defense as it is a formation, similar to the nickel or dime sets. Matthews picked the style up from his coach at Idaho in the 1960s, Dee Andros, though he took it further than Andros did.
Matthews spread the idea to Rich Ellerson, who would become Tomey's defensive line coach at Arizona in 1992, working directly with Tomey and defensive coordinator Larry Mac Duff to create what would become known as the Desert Swarm defense. Ellerson thinks of it as more of a combo of lots of ideas rather than just one concept.
"The scheme we used was actually an amalgam of a lot of ideas," Ellerson said in 2018.
The system itself was, as Tomey alluded too, about as simple as they come, by design. Tomey wanted his players to play faster, and to accomplish that, he wanted to cut away frills, making the defense look complex to offenses but simple to his players. To do that, the Desert Swarm utilized that double eagle flex, which, in layman's terms, just means that you have a traditional 4-3 or 4-2-5 look. However, instead of using a linebacker in the traditional way like in the 4-3, or transforming him into a nickel in the 4-2-5, that third backer becomes what's called a flex.
The front still just consists of four linemen and two linebackers, while the flex player served essentially as a combination nose tackle/linebacker in between the two units. Behind the front, Arizona deployed a single-high safety, two outside cornerbacks, and an overhanging hybrid safety that could do a bit of everything. In practice, it looks something like this.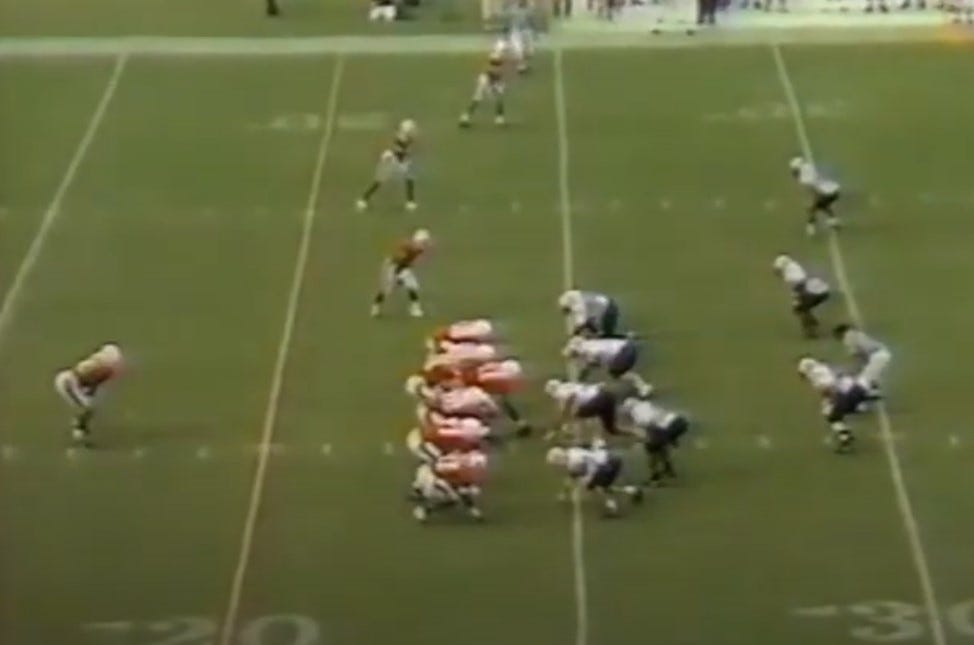 Pretty simple, albeit a little strange because of that floating flex player. With that overhang safety frequently stepping into the box to make plays against the run, Arizona frequently fielded what was close to an eight-man box – usually a death sentence for defenses in modern college football that Arizona rode to an impenetrable rush defense.
Because of the overload of defenders in the box, it was next to impossible for even great teams like 1992 Miami to run on Arizona. With five defenders on the line and a sixth showing blitz from the flex spot, Miami's draw goes straight into the teeth of the defense. Jim Hoffman blows through the middle of the line and combines with Richard Maddox setting the edge to take Larry Jones down in the backfield.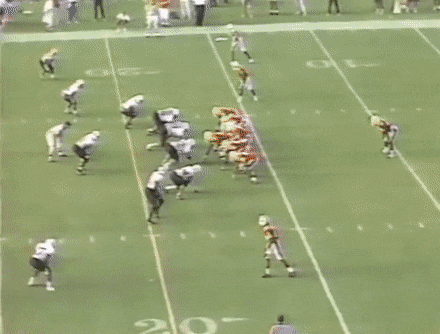 Even without an overloaded defensive front, Arizona lives up to its name and swarms to the ball almost as soon as it's handed off. The flex and the overhang safety line up on the outside edges, with a middle linebacker surveying just behind the line and taking a hard step in to defend the run as a first priority.
Miami is running a basic dive, with down blocks across the board. From a numbers perspective, this is absolutely doomed to fail from the start, because the Canes only have six guys on the line – one of which is a massively undersized tight end – to match up with Arizona's front.
With a rush from both edges and a dominant rep from the nose tackle, Miami never has a chance to get anywhere.
This sort of domination on the ground was still very much there, and still relying heavily on essentially the same concepts a year later against the Canes in the Fiesta Bowl.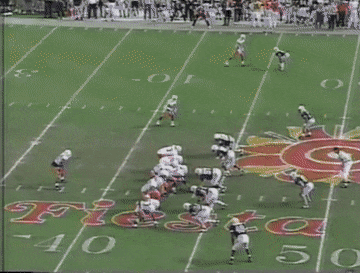 Arizona is still loading up the box to give Miami a numbers problem, and even on a play like this where the blocking up front is at least serviceable, a linebacker is right there after initial contact to finish off the play before it ever gets started. The "Swarm" part of Desert Swarm was much more literal in the way that these defenses played, but honestly, "Desert" may be more a more accurate descriptor, because Arizona's greatest strength, like the desert heat, is that it absolutely refuses to go away. There's never any room to breathe, or any semblance of separation.
With a run defense like that, it would be easy to imagine a much more lackluster unit against the pass, because of the sheer numbers being dedicated to shutting down the run. In some ways, that's accurate. Arizona allowed 187.9 passing yards per game to just 65.1 rushing yards per game in 1992, and 206.8 to 30.1 (!!!!!) a season later.
However, it would absolutely be a mistake to think that this team was in any way easy to pass on, especially if you were hoping to get anything done in any meaningful way. Miami, for example, threw the ball pretty well on Arizona in 1992, to the tune of 289 yards in the air, though it took Gino Torretta 46 attempts to get there, and he completed almost exclusively five-yard-out routes.
A season later, with the Heisman winner out of the picture, Miami struggled even more with the lesser half of the Arizona defense, as Tomey got to show off just how dangerous his defense could be against the pass if an opponent wasn't able to hit the short stuff consistently. Miami QBs Frank Costa and Ryan Collins combined for 147 yards and three interceptions on 15-of-44 passing.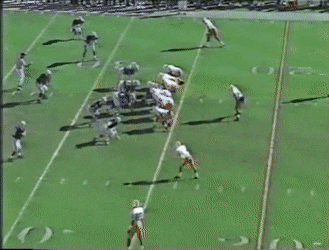 A lot of the success that Arizona had in defending the pass came from deception pre-play, paired with that similar overload approach that it took in stopping the run, transformed into a good but not quite great pass rush. You can see what that looked like here with quite a few shifts based on Miami's personnel, all of which is possible because of that flex player.
With a tight end motioning over, the outside defensive end shifts onto the offensive tackle's outside hip, the flex player drops into more of a linebacker role, the linebacker shifts out to fill a zone near the tight end, and the overhang safety gets down on the line to add a fifth rusher.
While this looks complex for an offense (or a viewer), it really isn't for the defense. Arizona had simple shift rules that could be applied quickly, and because so much of the personnel was practically the same physically, it had seven or eight guys on the field at a time that could all play each other's positions without much trouble.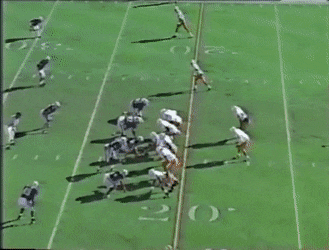 In obvious passing situations, Arizona would use that flexibility to drop into a more conservative seven-man backfield, dropping the two linebackers, overhang safety and flex player into coverage, with the flex player serving as a quarterback spy just behind the defensive line.
With a focus on coverage in the backfield, Collins had few open options right away, giving Tedy Bruschi the chance to embarrass the lineman across from him for an easy sack. With a player like Bruschi, dropping seven in coverage in a situation like this becomes a lot easier to pull off, because the quarterback isn't going to be able to just wait forever for someone to come open.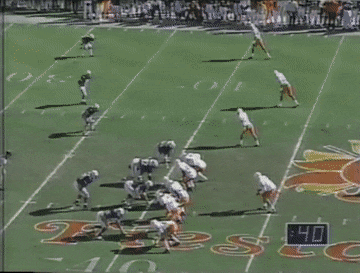 That isn't to say that Arizona never blitzed the passer, but when it did, as shown here, it was usually with that flex defender. Because he can line up anywhere and has a little extra space before contact with the offensive line, the flex defender could serve as a permanently disguised blitzer. Arizona was able to get as creative as they wanted with his angles and mix him in with stunts and delays, while still dropping six players into a litany of coverages – as many as eight per game according to Tomey.
Using that extra rusher, Arizona could confuse quarterbacks and offensive lines and force quick passes, which more often than not led to either an incompletion, or, in this case, a turnover.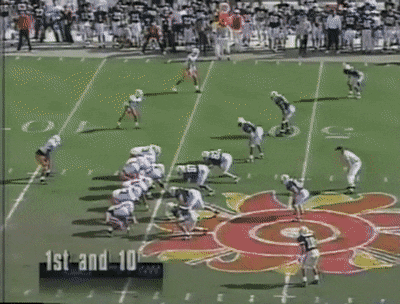 Really, the defense is a coach's dream, because Arizona was always dictating to the offense, rather than the other way around. Arizona told the offense what it could and couldn't run, and was almost always a step ahead of the offense's adjustment. After using that flex player in rushing the passer for a quarter, the Wildcats would suddenly drop him and everyone else into a zone designed specifically to create a turnover on one of those out routes, the only play that ever worked consistently against this defense.
They wouldn't do it all the time, because that would be too predictable, but after a full quarter of five or six rushers with man defense behind them, you can see what kind of damage a sudden drop into seven-man cover 3 can do to a quarterback. Because everyone on Arizona's defense could wear so many hats, and fill so many roles, the call to switch into a play like this could be made at any time. Arizona's Desert Swarm defense worked so well because it smothered the running game, forcing opponents to pass. Then, it funneled those opponents into a specific kind of pass, and whenever that pass started to work too well, the versatility of the defenders and of the scheme could create a turnover in a heartbeat and force the offense right back to square one.
It's unlikely that this would work today because you'd be dedicating too much into stopping the run with too little help in the backfield, but the effects of this defense are absolutely still felt today. The push for a positionless defense, for hybrid players, and for disguised rushers that can confuse a quarterback, a lot of that started with this team. Tomey's influence isn't one-to-one with current schemes, but his ideas and approach to the game is as important as any other coach's in the last 50 years.
Up next: Bill Yeoman's veer option.
Resources and games watched: Code and Football; Larry Mac Duff's playbook; UPI; Orlando Sentinel; Chicago Tribune; The Post Game; Double Eagle Flex Defense; Desert Swarm Defense; Richard Maddox's Scouting Video; Football Gameplan's Inside The Lab; 1992 Arizona vs. Miami; 1994 Fiesta Bowl vs. Miami;
Graphics by Kristen Lillemoen.
If you enjoyed this free piece, please consider a $5 subscription for access to all three stories per week.