Jimbo Fisher Is Still Making It Too Complicated
The Texas A&M head coach refuses to simplify his offense
It's hard for me to shake the parallels between Texas A&M struggles on offense and those that I detailed when writing about Notre Dame's offense a few weeks ago. It's funny, because from from both a personnel and scheme perspective, these are pretty different groups. Notre Dame is quite a bit better in the trenches, Texas A&M is much faster, and the two offensive minds in charge (Tommy Rees at ND and Jimbo Fisher at A&M) really couldn't have a more different approach, though that's true of Fisher and just about every offensive mind in college football.
Despite that, a lot of Texas A&M's problems feel very familiar, and uniquely tied to the problems that Notre Dame has been dealing with for years. Both teams struggle with generating big plays within the structure of the actual offensive scheme, both teams seem to lack an identity that can be leaned on in tough situations.
Watching them play, it almost feels like the offenses have an imaginary box around them, spanning from five yards behind the line of scrimmage to about 20 yards down the field. Any play that goes for more than 20 yards is almost certainly a result of a player breaking out of the scheme, not being enabled by it to make those plays.
I'd say that the tie-in is quarterback play, but the truth is that Brian Kelly and Fisher have been doing this for years. Kelly has never found an offense with a legitimate, consistent explosive threat and Fisher has been out in the wild offensively since losing Jameis Winston and bunch of NFL talent after 2014. Ian Book and Kellen Mond are far from perfect, but they're not the cause of these issues, they're just a symptom of a much larger issue in these offenses.
See, this is what happens to a college football offense that can't threaten a defense with big plays. It's why so many offenses were absolutely putrid prior to the advent of the spread offense, and why the vast majority of the stubborn teams that haven't converted to the consensus offense are left grasping at any sort of offensive production, unable to keep up with high-powered attacks. Notre Dame and Texas A&M can't be counted among that group (looking at you, Georgia), but a lot of the problems with these offenses can be traced back to the pro-style era of football, in that there's a whole lot of work going into these offenses for essentially no return.
Fisher famously plans out just about every part of his offense, has a massive playbook and runs what sportswriters love to call an NFL style offense, which is code for an offense that's purposefully obtuse and confusing, so that it looks impressive to dummies. The result of that sort of thing when you lack elite talent at every single position and a really smart quarterback to run it all is what Texas A&M has now. It works about five times a game and looks completely incompetent on the other 55 plays.
Notre Dame has a lot of the same issues, though unlike A&M, it's not so much an issue of over-complication and more a matter of a lack of creativity and willingness to lean into strengths. For the Fighting Irish, that means trusting a very good offensive line and setting Book up to make easier passes by dominating on the ground. Notre Dame can escape the that 20-yard box by daring the defense to sell out to stop the run, because the line is good enough to handle it and free up time for Book.
Despite the similarities, the solution for Texas A&M is pretty much the exact opposite, because of those personnel and scheme differences. This isn't a team that can just bully its way into wins against good opponents, because this offensive line isn't good enough to manage that kind of gameplan. No, Texas A&M can only escape the offensive box if Fisher realizes that his players are 18-22 years old, and that his offense isn't clicking and isn't going to click unless Winston suddenly walks through that door.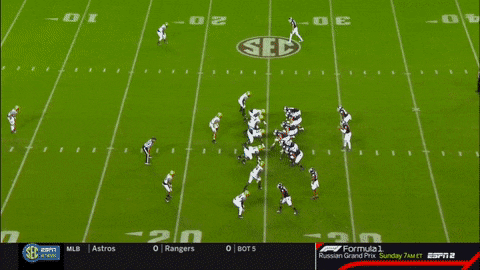 In practice, the offense not clicking looks a lot like this. This is a modified hi-lo bench, which just means that the offense is attacking the short side of the field with a quick hitting out-breaking route and a deeper corner route to stress the safety and vertical cornerback. It works pretty well against zone because it puts the safety and the deep cornerback into conflict and will usually lead to a pretty easy read for the quarterback.
Vanderbilt is in man here, though, which means that the weakness in the defense is in the flats on those quick routes, before the defenders can arrive, or in the seam, right into the space that safeties have vacated. This can work against either kind of coverage, but your quarterback has to be able to identify what he's seeing pretty quickly and progress to his checkdowns before the pressure gets there.
Mond isn't making that adjustment here and he rarely does on plays like this one. He forces the ball to his first read without ever picking up that the defense is in man, which should move his eyes either to the flats or to his tight end and when the pressure gets too close, he just launches to the only spot he's been looking at for the entire play.
You can say that this is on Mond and it certainly is to an extent, but this isn't new for him by any means. He's been this guy for four seasons now, and Fisher seems completely uninterested in recognizing that, especially if his press conferences are to be believed.
"They're very, very fixable," Fisher said of Mond's problems. "And we have to keep playing better around him too. As a quarterback, you can have 100 plays [and] play 97 of them perfectly.
"Those two or three bad plays, you touch the ball every time, can affect the outcome of the game no matter what that scenario is. You have to understand that, and you have to be perfect as a quarterback."
That's the wrong mindset to have with Mond, because at this point, he's done the growing he's going to do in college. It's pretty obvious that he's never going to fully grasp this offense and continuing to just hope that he eventually will is lazy from Fisher. It would be a lot more productive to rework these plays around simplifying the reads for Mond, rather than expecting him to read defenses at an NFL-level consistently. On a play like this, the changes are pretty simple.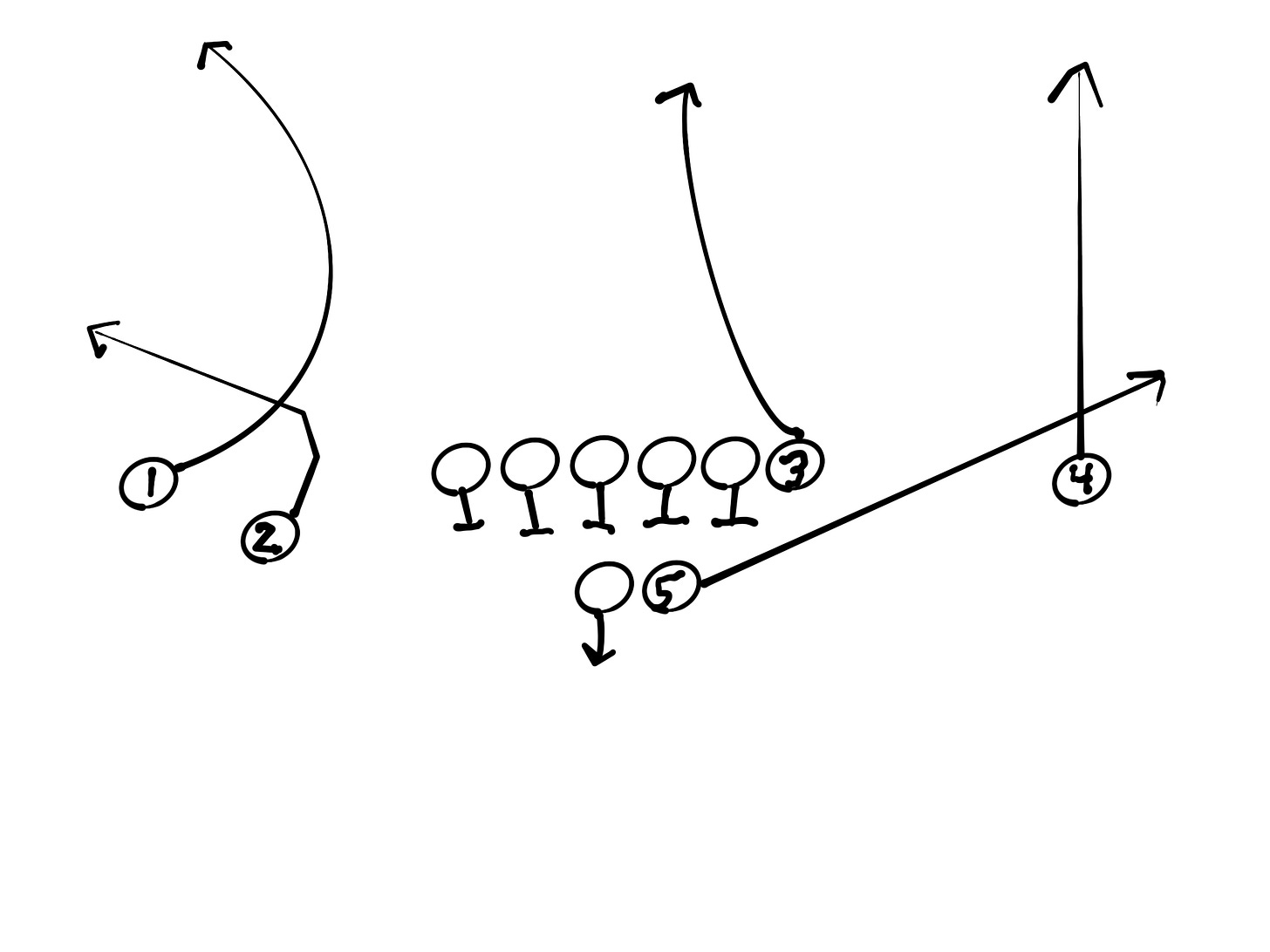 The bench stuff on the outside is fine and will work well against most coverage that Mond sees. That can still be the primary read hi-lo read on the play. However, there has to be a threat to the seam to take advantage of the safety overplaying the corner route in cover 2 or 2-man under looks. Switching that tight end from a quick stop route to a seam route takes away a checkdown, but there are already two passes to the flat available to Mond on this play, so it really shouldn't be a huge problem.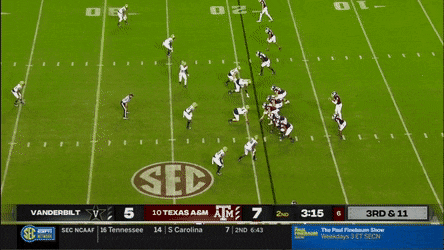 It's a similar issue on this play. Mond is doing so much work trying to read the defense down the field because this is an offense based around throwing routes open rather than scheming them open and to do that, the quarterback has to be able to pick up on little details down the field. Mond just can't do it fast enough, though. It takes him too long to read these plays and even when he does get there without being sacked, he's usually pressured enough that the throw is off target, as it is here.
Because he's having so much trouble reading coverages to make this offense work, he's frequently missing wide open checkdowns like the running back, who could've very easily picked up a first down on this play.
This is how all of Texas A&M chunk plays are designed. There's just too much happening, and none of it is leading to open receivers. I understand that this is Fisher's entire offense, but it's just not working with this personnel. Mond isn't a quick enough processor of information and he certainly isn't getting enough time behind this offensive line to make the reads he needs to make. Everything is late, everyone looks out of sync and it's all just sloppy.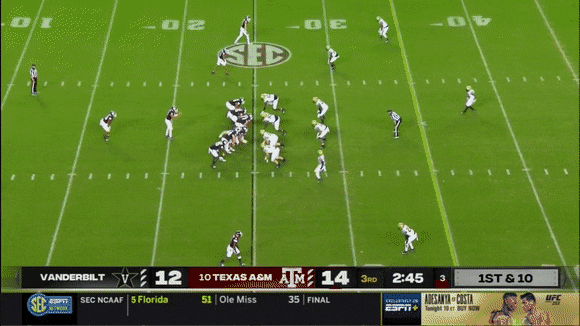 It certainly doesn't help that this line is consistently losing ground in the running game as well. When the defensive line is able to get such a push against an outside zone like this, there's pretty much no reason for the defense to fear a run, and we know there's no deep threat here, so defenders are allowed to just max up in covering the route combinations, rendering them pretty much useless. This is an offense that's trying to subsist on short gains without being able to pick up short gains consistently.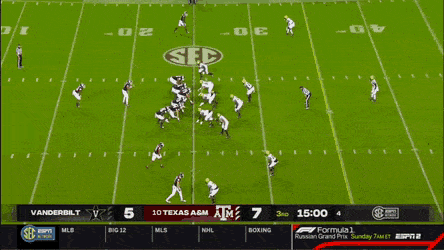 The only times that it actually generates big plays is when players either break out of the scheme and are free to improvise in space, or when the offense finally simplifies and forces the defense to deal with multiple options.
This run is a great example of the former. The blocking is poor, but Isaiah Spiller is good enough to break away from it on his own and turns a broken play into a huge gain.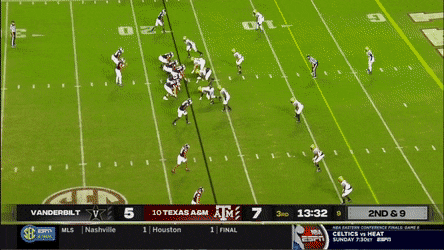 It's the same thing here. Mond doesn't process the actual reads quick enough on this spacing play and has to escape the pocket within just a few seconds. This is doomed until he breaks out of the play and his tight end follows him, creating a touchdown that was absolutely not within the design of the offense. There's something to be said for building an offense around improvising, but this isn't that. This is a team that improvises in spite of its offense and only seems to find success when it breaks away from the scheme.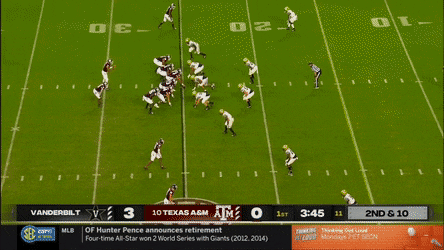 As for the latter, success in simplified looks, you get plays like this one. This is just a speed option to the open side of the field, but it's accomplishing three things that I think are crucial for the rushing success of this team. Firstly, it doesn't depend very heavily on the offensive line. They're expected to seal off the back side of the defense, but the lead blockers here are the tight end, two wideouts and the right tackle, who just has to get to the second level to take on the back side linebacker.
Secondly, that read is isolating a defender, which A&M needs to do a whole lot more of in the running game. This team needs a numbers advantage to have success on the ground.
Lastly, this is a play that's going into open space, with a talented athletes carrying the ball. It sounds simple, but just getting these players into the open field created quite a bit more production against Vanderbilt than anything that the offense was designed around. This is the strength of the team and this play uses it.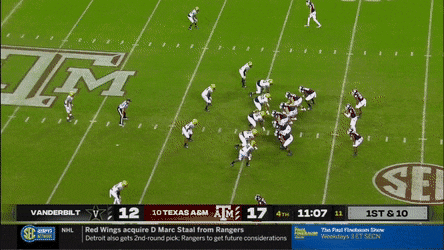 It's the same idea here. The isolated defensive end and orbit motion from the halfback freezes two defenders on the back side of the play, giving the line (plus a tight end) an even numbers box to work against, even with eight defenders in the box at the start of the play. Also, it gets two of the most talented players on the team onto the field at the same time in Spiller and Ainias Smith, which stretches the defense and provides more option for the Aggies.
This is how Texas A&M has to run the ball, and this kind of ideology really needs to spread to the passing game. Nothing here is overly complicated, Texas A&M is just leaning on its athleticism to put defenders into conflict, creating an easy assignment for the linemen. The exact same thing can be done for Mond in the passing game.
Cut the overly-complex reads and give him route combinations and plays that are designed to free up a receiver. He doesn't need to be reading the entire field on every play and it only seems to be working to his detriment. Give him a key defender or two, attack those defenders with your athletes, and break out of the damn box. It's not like you have to look very far in the state of Texas to find offenses that are doing this. If Fisher wants to salvage Mond and benefit from what should be a very good roster, he needs to do as all great offensive minds do and steal like hell from coaches that are winning games and scoring points.
Up next: Fine, I'll write about Will Muschamp